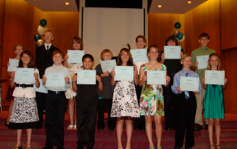 Our graduates are leaders in their educational careers: including 15 High School Valedictorians and 8 Collegiate Presidential Scholars.
Our grads are also well-respected leaders in their professions around the world!
We would love to have the opportunity to invest in your child.
Re-enrollment time is here!
Confirm your spot in next year's classroom prior to our enrollment of new families. Once you complete the enrollment form, you will be prompted to make your payment online.
Click here for the current tuition rates. If you are enrolling a new kindergartener, please click here to fill out the enrollment application.
The deadline for this pre-enrollment time is February 28, 2019. Fees will increase on March 1, 2019.
Additional forms (emergency contacts, tuition agreement, and authorization for emergency care) will be emailed at a later date.