Background
We want all Los Altos Classical Christian Academy students to come to school ready to learn.
We believe that clothing strongly influences a child's attitude toward school and affects his/her approach to learning during the day. By wearing uniforms, students are creating an environment of excellence set forth by the expectations of Los Altos Classical Christian Academy. This allows students to stay focused on their education and not on their clothes. Uniforms allow for an attitude of professionalism that supports a philosophy of dressing up for education; enhancing school pride, unity, and community spirit.
Our uniform supplier is LandsEnd. Everything in the Los Altos Classical Christian Academy's online catalog provided by LandsEnd is approved for LACCA school wear.
We Recommend
We recommend that students have at least 3 "tops" and 2 "bottoms".
At least 2 of the tops need to be polo shirts purchased below. One of the tops can be a "bulldog" t-shirt.
The bottoms can be purchased through Lands End or locally. As long as they are uniform style and fabric and one of the proper colors without logos or wording they are fine. See the policy below for details.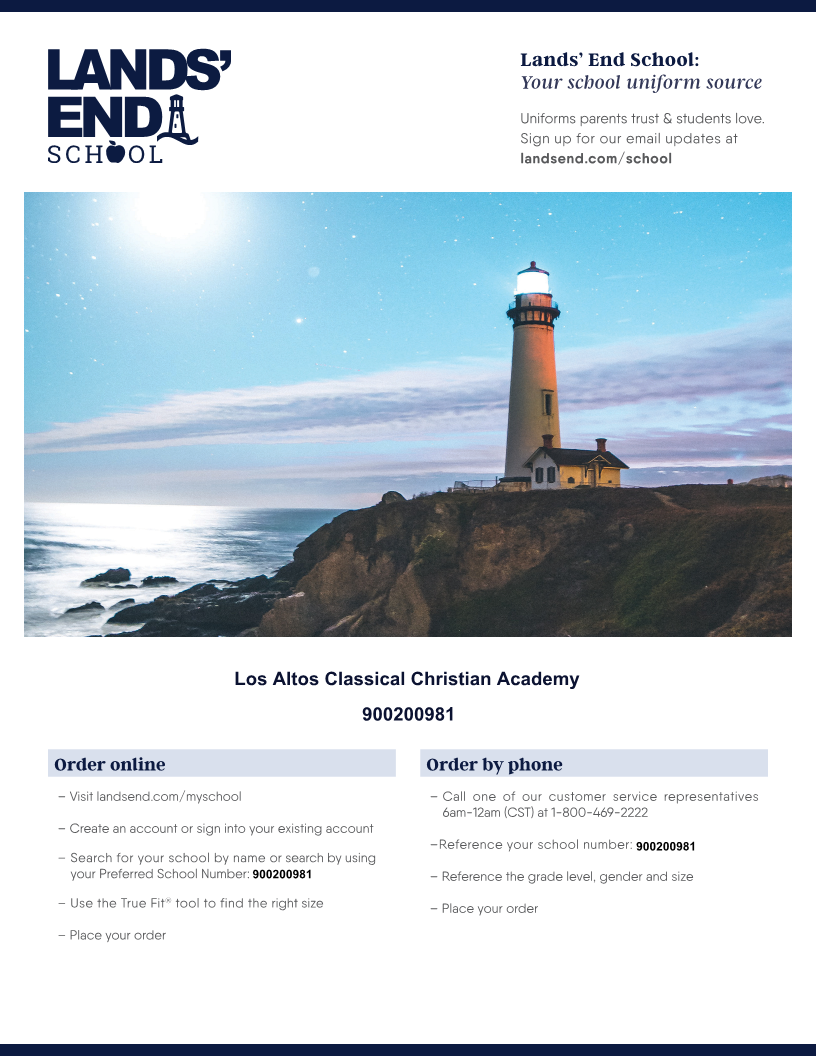 Uniform Policy
BASIC UNIFORM FOR ALL STUDENTS AT LACCA (Grades Kindergarten – 6th)
All students will wear the following and will be known as our "chapel uniform."
Cobalt blue polo shirt (long or short sleeve) with logo or cobalt polo dress for girls (with shorts underneath)
Black bottom – pants, shorts, skirt, skort, and jumper (girls must wear shorts under skirts for modesty)
Uniform Shirts:
Polo shirts (long or short sleeve) are to be purchased from LandsEnd with the LACCA logo.
Girls may wear "polo style dresses" (cobalt blue or black) purchased from LandsEnd with the LACCA logo.
Students are required to wear the LACCA monogrammed polo shirt (cobalt blue) and black bottoms on Fridays for chapel and on school field trips unless the school announces otherwise.
Long sleeve bulldog t-shirts or plain white undershirts (tucked in for neatness) may be worn under the emblemed polo shirts for warmth in the classroom.
Bottoms:
Black, gray, or khaki pants, shorts, skorts, and jumpers can be purchased from our LandsEnd online catalog.
Students K-6 may wear uniform style shorts, skirts, skorts and pants from other suppliers. No tight pants or jeggings allowed. No short skirts or shorts (less than 4 inches above the knee).
Girls must wear black (or dark colored) shorts or leggings under skirts or dresses.
Uniforms must be free from rips and tears.
Denim is allowed on free dress days only.
Spirit Wear:
Bulldog t-shirt (long or short sleeve)
Bottom – gray, black, or khaki
Bulldog t-shirts (short and long sleeve) are available in the school office.
All outerwear (for warmth- in or out of the classroom)
Must be a school-issued sweatshirt, zippered jacket, or solid cobalt blue or gray in color (logo only, no print or design). Outerwear needed (other than for warmth as mentioned above) for inclement weather may be worn outside but must be stowed into a backpack during class time.
Bulldog sweatshirts and zippered hoodies are available in the school office.
Shoes
Must be closed toe, closed heel, laced-up or slip-on athletic or sneaker.
Must be conducive to safety in the classroom and on the playground.
Students should wear athletic shoes on Tuesday/Thursday for PE.
Socks or tights must be worn with all shoes.
If rain boots are worn, please provide regular school shoes to wear in the classroom.
The following shoes are inappropriate for school wear: sandals (including croc style), dress shoes, high heels, platform shoes, boots, open-toed and/or open-heeled shoes.
Hair
Hairstyles for boys and girls must be conservative, groomed, and neatly trimmed (natural color).
Hair bows, bands, or ornamentation must not be a distraction to learning.
Free Dress Days
No clothing that advertises alcohol, drugs, or other offensive material.
No tank, halter, crop or spaghetti strap tops.
No short skirts or short shorts (shorter than 4 inches above the knee).
No clothing with holes/rips or frayed edges.
No tight pants (jeggings)
No sweatpants
Hats and Sunglasses
Hats, caps, jacket hoods, or sunglasses may not be worn during class, chapel or assemblies unless there is a medical reason. They may only be worn during recess time.
All hair accessories must be school colors (cobalt blue, gray, black, and white) and not a distraction from learning.
At all times clothing and accessories may not advertise alcohol, drugs, or other offensive material.
Please check your student each morning for all items of uniform clothing. This would include socks and shoes, as well as a clean and well-groomed hairstyle that will not be a distraction throughout their day.
If your student arrives at school "out of uniform" a note will be sent home as a reminder. If there are continued days of uniform unpreparedness, a parent will be called to bring appropriate uniform clothing. Thank you for your part in building success into our school.
THE ADMINISTRATION AND STAFF RESERVE THE RIGHT TO MAKE THE FINAL DECISION ON THE ACCEPTABILITY OF ANY CLOTHING OR APPEARANCE.