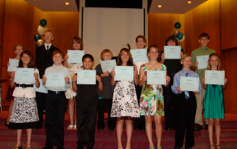 Our graduates are leaders in their educational careers: including 15 High School Valedictorians and 8 Collegiate Presidential Scholars.
Our grads are also well respected leaders in their professions around the world!
We would love to have the opportunity to invest in your child!


Thanks for considering our school!
Los Altos Brethren School accepts students—kindergarten through sixth grade.
We would be delighted to give you a personal tour of our school at your convenience. It's the best way to get a feel for what our school community is like. Please feel free to call (562-430-6983) or email and make an appointment with our school office.
Enrollment process for Kindergarten:
1. Complete & return an Application to the office.
LABS Kinder Application
2. Meet the principal and tour the school.
3. Complete a new student screening–a 20-minute assessment for grade readiness followed by a brief interview with the principal.
4. Pay new student registration fee and the student is officially enrolled (if there are openings).
Regarding payment, we accept cash or check (written to "Los Altos Brethren School") with a 3% discount. We also provide the convenience of being able to pay registration fees online with a credit card.
Please feel free to call anytime and speak with our principal. You are welcome to stop in for a tour without an appointment. We are here for you and want to accommodate whatever works best for you.
Tuition
Registration
$300 ($275 if paid by March 24)
($150 before screening, balance due 30 days after screening)
Monthly tuition is paid over ten equal payments September – June
First tuition payment is due September 1, 2017.
Kindergarten
Tuition: $5,950 (8:30 am – 3:00 pm) $595/month Cash/Check Discount ($613 Credit/Debit)
Discount for payment in full by August 1 = $5,771.50 (3%) Cash/Check
Elementary Extended Day Care (K-6), $5.00 hourly. Before school 7:00-8:00am; after school 3:15 – 5:30pm.
FAMILY DISCOUNT POLICY:
The family discount is applied to the younger sibling(s).
2nd child – (2%)/year discount – deducted monthly
3rd child – (20%)/year discount – deducted monthly
4th child – information available
Notes
The above rates are payable monthly to LOS ALTOS BRETHREN SCHOOL. Tuition payments are due by the first of the month and delinquent if not received by close of school on the 10th. There will be a $20 late fee charged after the 10th unless prior arrangements have been made with the school office.
Students bring their own lunch. Milk is $50 per year payable in September.
You have one tuition account for all students preschool-6th grade. You may pay your preschool-6th grade students on the same coupon, along with band, choir, milk and day care.
Students having "past due" accounts are not eligible to receive report cards in June or return in September for the new school year.