Come Join Us for this
Great
FUNdraiser for our school!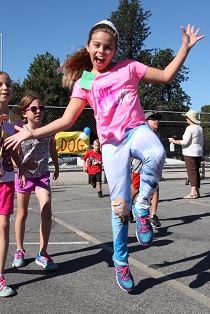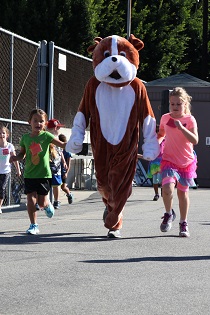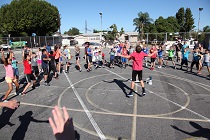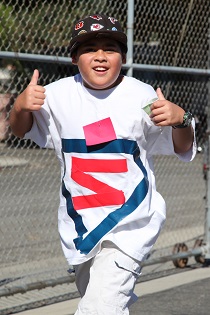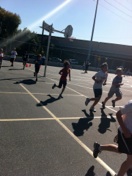 On Your Mark, Get Set, Let's Jog!
 Friday, November 8, 2019 
   K-6th Jog-a-Thon
1st-3rd Jog Time 9:00am-10:00
4th-6th Jog Time 10:00am-11:00am
Kindergarten Jog Time 11:00am-11:30am 
What 
Our annual Jog-A-Thon will be held on Friday, November 8th.  This is our school's main fundraiser. All families are encouraged to join the day, cheering for your students as they run. 
Why
The money you raise goes directly to enriching educational opportunities for our students and staff (such as traveling science programs, field trips, and teacher enrichment seminars), classroom activities, after school robotics and STEAM activities.
 How
Each student will walk, run or jog for 45 minutes to run laps around a 125-yard track, on the school playground.  All students are invited to participate.
Important Dates
Jog-A-Thon, PSG Lunch & Medal Assembly – Friday, November 8th
Donations – Due Friday, November 15
Jog-A-Thon, Awards Assembly – Monday, November 18th
Donations
How do I get donations?   Ask your friends, family, and neighbors.  Do a job for someone in exchange for a pledge.  Company matching funds.  Have a bake sale in your neighborhood.  Have a car wash.
Awards
Medals to the 3 boys and 3 girls, in each class, who run the most laps
Award for most improved jogger in each class, grades 2-6
See below for this years FANTASTIC prizes!
Jog Day
T-shirt and appropriate shorts and shoes with socks should be worn to school, no changing please.  Please be sure your child wears tennis shoes and appropriate jogging clothes (shorts should not be too short!).  There will be no time to change. They may stop and rest at any time.  Water will be available at all times.   All joggers will get a Gatorade drink after they jog.  We have lots of fun planned for the day – be sure to check out the schedule so you don't miss out on anything!
Jog-a-Thon Schedule
Friday, November 8th 
9:00-10:00am                        1st-3rd Grade Jog
10:00-11:00am                      4th-6th Grade Jog
11:00-11:30am                      Kinder Jog
11:45am                                     Kinder Awards Assembly
11:40-12:15pm                      1st-3rd PSG Pizza Lunch 
12:15-12:45pm                      4th-6th PSG Pizza Lunch 
1:30-1:50pm                           1st-6th Awards Assembly 
1:50pm                                   Early Dismissal
Please note – school begins at its regular time, 8:30am and will be dismissed following the awards assembly at 1:50pm.  We have a fun day planned with the jog in the morning, Deli News Pizza lunch, and capping off our day with an awards assembly.  Family and friends are invited to join us for the day.
Volunteers
We need YOU!  It takes many volunteers to make the jog-a-thon run smoothly and be a success for our students, their families and our school.  Volunteers are needed, on the day of the jog-a-thon, to help with set up, count laps, the water station and clean up.  Volunteers are will also be needed to help with the bounce house party and to drive students to the $300 party.
Volunteers – Please complete and return the Volunteer Form
Donations
All money collected is due by Friday, November 15.  Donations are TAX DEDUCTIBLE.
Online Donations:  You can now donate online! Click HERE>>
Pledge Per Lap:  Following the jog-a-thon, a "Student Lap Count" sheet will go home with your student.  Please share this information with anyone who has given a "pledge per lap".  Students who have "per lap" pledges should collect the money at that time.
Company Matching Funds:  Many companies match funds raised for nonprofit organizations.  This can double what your student raises – don't forget to check!  We can help by providing the necessary information to your company/corporation.  Contact the office for help.
Checks should be made out to Los Altos Grace PSG. 
Prizes and Parties
Awards Assembly –  There will be an medal assembly, in the chapel, from 1:30-1:50pm.  We'll have a video of pictures from the day and give all the awards and medals.  Family members and friends are welcome to join.
| | |
| --- | --- |
| GOAL | PRIZE |
| BRING IN FIRST $25 by 11/7 | All participants will receive a Jog t-shirt.  Bring in your first $25 before 11/7 and receive a silicone wristband, too! |
| BRING IN $50 | Win a free dress pass (to use any day of your choosing) |
| BRING IN $75 | Win a free homework pass |
| BRING IN $100 | Win an extra recess, plus snow cone dessert |
| BRING IN $200 | Win Los Altos Grace spirit wear (headbands, wristbands, water bottles, etc.) |
| BRING IN $300 | Win an afternoon "ditch day" which will include a trip to In-N-Out Burger and the remainder of the afternoon off campus |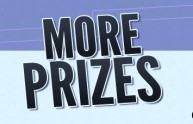 Additional prizes for the students who receive and bring in* the most amount of pledge money for the school!

Students in Kinder – 3rd Grade (one combined group)
| | |
| --- | --- |
| 1st Place (i.e. Top earner) | $200 Amazon or Target Gift Card |
| 2nd Place | New Kindle Kids 10th Edition with screen protector and adapter |
| 3rd Place | Razor Delta Wing scooter (3-wheel) and helmet |
Students in 4th – 6th Grade (one combined group)
| | |
| --- | --- |
| 1st Place (i.e. Top earner) | $200 Amazon or Target Gift Card |
| 2nd Place | Kindle Fire HD8 Tablet 32 GB plus case in marine blue |
| 3rd Place | Razor Pro Dirt scooter and helmet |
*Eligibility is based on actual money collected and turned in by November 15.