Los Altos Grace Elementary
First Grade
Veronica Bustinza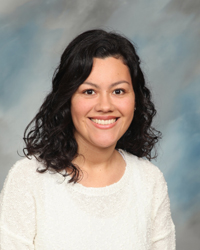 Welcome to first grade!
I am Veronica Bustinza and I'm very excited to have the opportunity to teach first grade here at Los Altos Grace. I was born and raised in Long Beach, California. I am the oldest of four siblings. I have the privilege to lead worship and play the piano in the church I grew up in. I have played the piano since the age of 12. My greatest passions in life are serving God, spending time with my family, and working with kids. In my free time I enjoy sitting at the piano and shopping.
Growing up, I always knew in my heart that I wanted to be an elementary teacher. I looked up to both my Sunday school teachers and school teachers, and saw the impact that they had on kids. In high school, I worked with 1st graders through a Careers with Children class, which was a confirmation on my decision. In 2011, I graduated from California State University, Long Beach with a Bachelor's degree in Liberal Studies and a Multiple Subject Teaching Credential. Since then, I have been working with kids from preschool through 6th grade. Shortly after graduation, I worked with Centralia School District as a Preschool Teacher Assistant. I then went on to clear my credential through a two-year induction program with Long Beach Unified School District. At the culmination of the program, I received my first long term substitute assignment in a 3rd grade classroom. I worked many long term and short term assignments in Centralia School District and Savanna Elementary School District as a substitute teacher. In 2017, I received the position as a 2nd grade teacher with Savanna School District.
In 2019, God opened door after door here at Los Altos Grace.  I began as a Preschool Teacher Assistant, then taught the 4s, and now I currently teach First Grade. I have loved being here because the environment is welcoming and feels like family. Most importantly, the fact that I get to teach academics and freely teach about Jesus. It's great to see kids learn about God and see them worship in chapel. I know that elementary is the foundation to a child's learning and creating habits that will help them be successful now and in their future is essential.
Peek Into 1st Grade
Small Reading Groups

: Daily Five Rotations gives children the opportunity to work in various literacy activities consisting of read to self, read to someone, work on writing, word work, and listen to reading
Math Stations

: Students rotate working in a small group setting on math lessons, math with a partner, and math on their own doing Jiji on their tablet
Field Trip to a zoo in the Spring